April 17 - April 28, 2023
What Is It?
Legal Food Frenzy (LFF) is an annual fundraising competition created in partnership with the Virginia Attorney General, the Young Lawyers Division (YLD) of the Virginia Bar Association, and the Federation of Virginia Food Banks.
The LFF is open to EVERYONE across the Virginia legal community. Now – more than ever – each law firm, law school, legal organization, and corporate/in-house counsel can have the biggest impact on hunger. Everything your team raises benefits the regional food bank that serves YOUR community.
To date, more than 20 million pounds of food have been donated to hungry families through Virginia's seven regional food banks and their 1,100 partner agencies.
how Does it Work?
It's simple! Registration opens March 1, 2023, and the competition will run from April 17th - April 28th. Register your organization here and you will be connected with your local food bank. If your organization has multiple offices across the state, each office will need to register with their respective regional food bank.
Check with your local food bank representative for their current policy on food donations and volunteering. Online fundraising is always encouraged, but any checks collected can be mailed to your food bank at the end of the LFF (more information will be sent after your team registers).

How Do I Win?
All private firms with 1 – 99 employees will compete against each other by service area on a per capita basis. Each of the seven food bank service areas will have one winner based on the total amount raised per employee.
Large-sized firms (100 or more employees), Government/Public Service firms, Corporate Legal Departments, and Law Schools will compete statewide. Each category will have two winners -- one winner based on the total amount raised per employee/student and one winner based on the total amount raised overall.

Why Should I Help?
This year we are expecting more neighbors to experience food insecurity because of the rising cost of groceries, gas and housing. Also, pandemic-era programs like Emergency SNAP allotments are ending, further exacerbating the inflationary pressures hurting low-income families. These are people who live in cities, small towns, and suburbs. They are grandparents raising grandchildren. They are single mothers working three part-time jobs. They are two-wage households struggling to pay medical bills. They are military families and veterans. They could be your neighbors. Hunger hides in the shadows but it does not discriminate. We need your help to ensure that everyone has access to the nutrition they need to thrive.
The Federation of Virginia Food Banks, our seven-member food banks, and the 1,100 partner agencies we work with are committed to meeting the nutritional needs of families throughout the Commonwealth. We are able to do this in large part because of the support we receive year after year from Virginia's legal community.
In 2022, we collectively distributed 135 million pounds of food through 1,100 partner agencies and community distribution sites across every city and county in the state. Rising food costs, and continued disruption to supply chains means our food banks must purchase much more product than in the past.
You can learn more about hunger in your community at the following links:
map.feedingamerica.org
www.feedva.org
The firm that donates the most per employee (minimum 5-person office) will win the coveted AG Cup. All winners will be invited to a reception hosted by Attorney General Jason S. Miyares in Richmond, Virginia in the summer of 2023.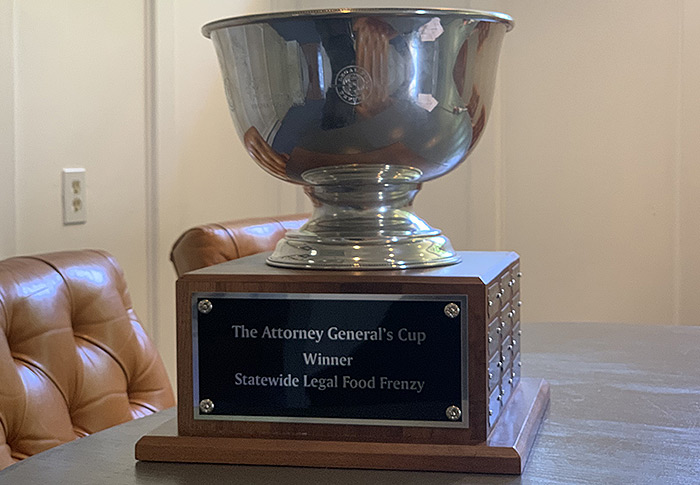 ---
For questions about the Legal Food Frenzy campaign and website content, please contact Alex Cuff. © 2023